About
Jo's work covers a broad range of her curiosities including travel, food, pop culture, music, nature, community issues and human interest stories. 
Creating thought-provoking features for Australian and international newspapers, magazines and websites, Jo has contributed to more than 40 different publications including The Sydney Morning Herald, The Age, The Saturday Paper, Body + Soul, International Traveller, Time Out, VICE, Mindfood and more.
She is also the author of Which Cult Should I Join? A Choose-Your-Own Guidebook for the Spiritually Bereft. Published in 2017 by Smith Street Books, the book is distributed internationally in the USA, UK, Canada and New Zealand.  
Editorial
Jo's written features and photography have featured in many online and print publications including The Saturday Paper, The Age, Sydney Morning Herald, The Independent, International Traveller, Boat International, Vacations & Travel, Mindfood, Women in Pop, Time Out Melbourne, AWOL, yen and VICE.

Working as a communicator, writer and photographer on expeditions to Antarctica (in 2013) and the Simpson Desert (in 2015), Jo is accustomed to working in hostile environments to capture out-of-the-ordinary projects held in out-of-the-way places. 
Writing and taking photos in isolated, unforgiving environments has enabled her to learn that she can write about almost anything, almost anywhere.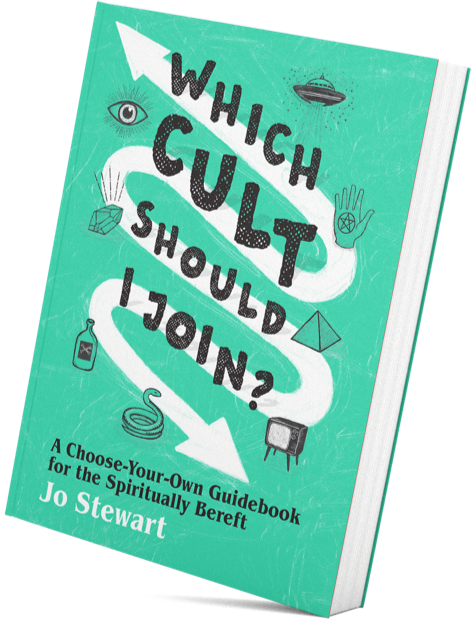 Books
Jo's first book Which Cult Should I Join? A Choose-Your-Own Guidebook for the Spiritually Bereft was published by Smith Street Books in 2017 and distributed in Australia, New Zealand, USA, Canada and the UK.  
If in Australia, you can purchase the book in store or online from a wide variety of independent, online sellers including Readings.
International buyers can also buy from select book stores and online sellers like Amazon.
Her second book profiles the world's most interesting professions and will be published in early 2018. Watch this space!
Purchase
Brand Work
Jo has extensive experience creating and editing content for leading organisations and agencies across a variety of sectors including travel, government, not-for-profit, consumer goods, health and financial services.  
Jo has created custom content for the following organisations: Australian Museum, Red Bull Adventure, Australia Post, Intrepid Travel, Flight Centre, Hello Fresh, Jetstar, AAP (Australian Associated Press), YHA (Youth Hostelling International), JNTO (Japan National Tourism Organisation), Tourism Tropical North Queensland, Asahi Beverages, Royal Flying Doctor Service, Visit Victoria, FebFast and Clemenger BBDO.